Changpeng Zhao pours more gas on the Binance vs. Ethereum fire
With the market cap of BNB soaring above $2 billion and its price approaching all-time highs, Changpenz Zhao seems to be striving for more growth for his project, this time, at the expense of Ethereum.
Even though he just did it through a retweet, the otherwise quite dipolomatic and cool-headed CEO of Binance Changpeng Zhao seems to be interested in keeping up the tension with Vitalik Buterin's led Ethereum.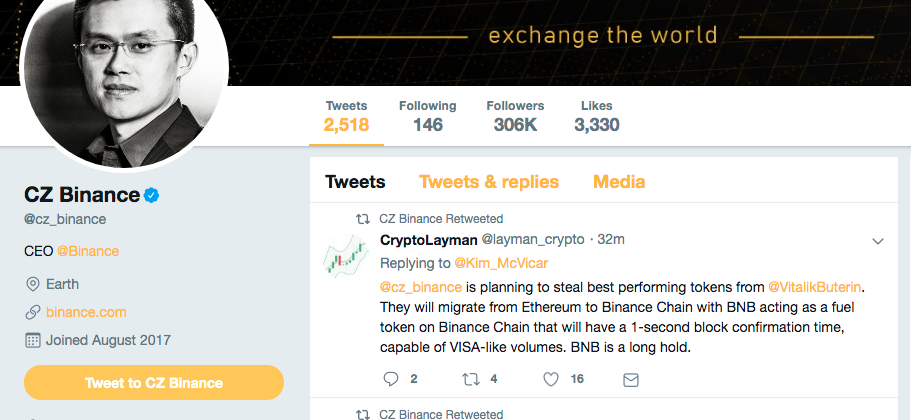 The tweet shared today by CZ goes in the line of previous messages coming from him but also from TRON team leaders instigating developers working on Ethereum to move their projects to Binance or TRON's platforms. However, the specifics of the wording of the tweet shared by CZ have raised some eyebrows:
steal?

— Daniel Epstein (@KnoZiggeh) March 25, 2019
With the latest several successful projects on the Binance Launchpad, together with the Binance DEX launch, it seems as if the Binance Coin (BNB) is posing itself as a serious competitor of Ethereum, adding up to a list already grouping EOS and TRON, lead by Team CZ- friendly Justin Sun.
Read more: Could Binance push Ethereum into extinction?
In the past, CZ has been very clear about the lack of utility he sees in the most widespread Ethereum standard, ERC20: 'If you're only using ERC20 as a token, there's no real reason for you to stay on Ethereum'. Zhao argues that, due to the near-instant transaction capacity of the Binance Chain, it is a much faster and cheaper element than its equivalent in Ethereum. However, he seems reluctant to admit this point publicly, or at least it appears like he wants to do it on his very own terms.
no. ETH have smart contract that could do anything. @Binance_DEX is a specialized chain for one purpose. Different things.

— CZ Binance (@cz_binance) March 17, 2019
Read more: Binance attempts to make Launchpad 'fairer' with new 'lottery' format
Follow Chepicap now on Twitter, YouTube, Telegram and Facebook!
Chepicap is here for you 24/7 to keep you informed on everything crypto. Like what we do? Tip us some Satoshi with the exciting new Lightning Network Tippin.me tool!
Read more: How to tip and receive Bitcoin via the Lightning Network with Tippin.me